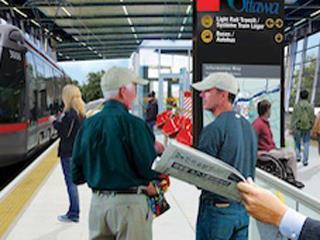 CANADA: The City of Ottawa and Infrastructure Ontario announced the three bidders shortlisted for the C$2·1bn Ottawa Light Rail Transit project on October 21.
Ottawa Transit Partners: Vinci, Acciona, Bombardier Transportation, Aecon Construction;
Rideau Transit Group: ACS Infrastructure Canada, SNC-Lavalin, Dragados Canada, EllisDon, Veolia Transportation Services;
Rideau Transit Partners: Bouygues Travaux Publics, Brookfield Financial, Fiera Axium Infrastructure Canada, Parsons Enterprises, Parsons Canada, Colas Rail.
The winner will design, build, finance and maintain a 12·5 km light rail line along the existing bus rapid transit corridor from Tunney's Pasture to Blair Road, with 13 stops and a 3·2 km tunnel under the city centre.
A request for proposals will be issued later this year, with fixed-price bids to be submitted by July 2012. The winning bidder will be selected in late 2012 for work to begin in the first quarter of 2013. Revenue service is scheduled for 2018.
A previous light rail scheme was cancelled in 2006 after a change in the composition of the city council, with Siemens being awarded a C$36·7m settlement as leader of the consortium which had been named preferred bidder. Siemens is not participating this time round, but a spokesman said the company still hopes to supply rolling stock if one of the Rideau consortia wins.