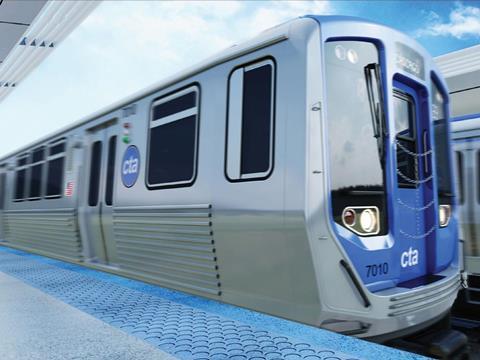 USA: Federal Transportation Secretary Anthony Foxx announced on March 30 that the Federal Transit Administration had agreed a $255m low-interest loan to Chicago Transit Authority under the Transportation Infrastructure Finance & Innovation Act. This will partially fund the operator's next generation of metro trainsets.
Earlier in the month CTA awarded a framework contract to CSR Sifang America for the supply of up to 846 Series 7000 cars, potentially worth $1·3bn. This included a base option for 400 cars, but CTA has subsequently decided to place a firm order for 490 cars at a cost of $772·5m. The TIFIA loan will provide around a third of the funding for this initial build, with the remainder coming from FTA grants and CTA sales tax bonds.
'Every Chicagoan knows how important the L is for accessing jobs, education and opportunity in the city and throughout the region', Foxx. 'This funding will bring state-of-the-art railcars to serve Chicago's communities, helping to expand economic opportunity and socio-economic mobility throughout the Chicago area.'
The deal is CTA's third TIFIA loan in recent years, and has been secured against future fare revenue. According to financial analysts, all three loans are considered as secured bond obligations under a 2014 master trust indenture. The first $79m loan was approved in 2014, covering the development of a new bus-rail interchange to replace the existing station at 95th Street. A second loan worth $120m was agreed in May 2015 to fund infrastructure renewals on the northern section of the Blue Line serving O'Hare airport. CTA also issued $555m in bonds in 2014, secured against future sales tax revenue.
Last year CTA adopted a capital plan which envisages a total investment of $2·5bn by 2020.