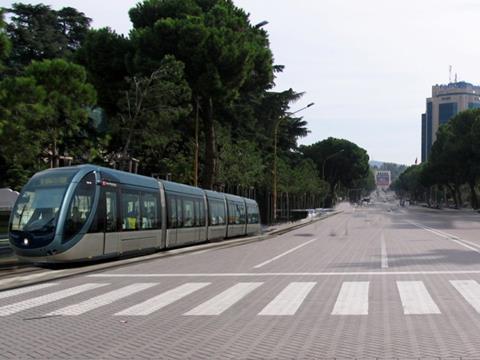 ALBANIA: Provision for the construction of the first of two proposed tram lines is to be made during the construction of the Tiranë Public Transport Terminal, a rail, bus, minibus and taxi interchange to be developed in the northwest of the capital.
TPTT is to replace the current city centre station as the terminus of train services from Durrës operated by national railway HSH. It would be linked to the city centre by a 7·2 km light rail line running to Sheshi Nënë Tereza.
A second light rail line is proposed to run 9·5 km from Kinostudio in the east to Kombinat in the west, crossing the north-south line in the city centre. In January the French government provided a €720 000 grant to fund a feasibility study by Egis.
The city council is to call tenders this year for a 20+ year design, build, finance, operate and transfer concession for the development of TPTT, and expects to award a contract in July 2014. The project is expected to require investment of €39·3m, or €53·4m including a second phase with retail, office and hotel developments. The concessionaire would be responsible for construction of the tram stop and a depot, but not the track and tramway systems which would be procured under a separate concession.