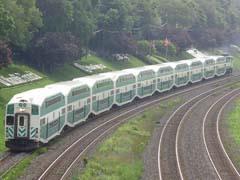 CANADA: A long-delayed programme to increase commuter service on the Georgetown Line in Toronto, including a link to Pearson International Airport, was given the go-ahead by Ontario Environment Minister John Gerretsen on October 5 but with numerous strict conditions including the use of clean diesel locomotives.

Gerretsen attached 18 restrictive provisions to his approval of an environmental project report, completed by regional transportation agency Metrolinx, which includes an express service from Union Station to the airport.

The Georgetown South Service Expansion project is part of the C$1bn GO Transit Rail Improvement Programme funded by federal and provincial governments and local municipalities through the Canada Strategic Infrastructure Fund. However, the Union Station — Pearson Link will be financed and operated by the private sector.

Gerretsen rejected demands for electric traction by residents along the route. Instead, commuter services must be hauled by diesel locomotives that meet the new US Environmental Protection Agency Tier 4 emissions standards that are due to come into force in 2015. The use of Tier 4 engines can be delayed until the 'technology becomes commercially available,' although the minister says he believes it will be ready in six years' time.