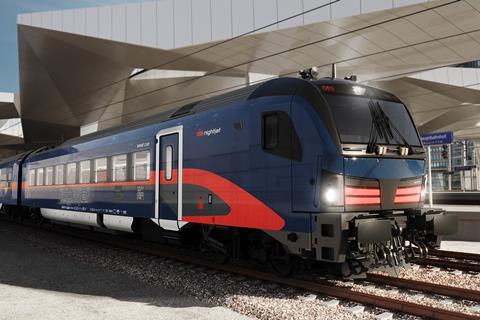 AUSTRIA: Austrian Federal Railways has ordered a further 20 seven-car sets of Viaggio Next Level coaches from Siemens Mobility for use on Nightjet overnight services.
The order announced on August 10 is the second to be placed under a 2018 framework agreement covering up to 700 vehicles.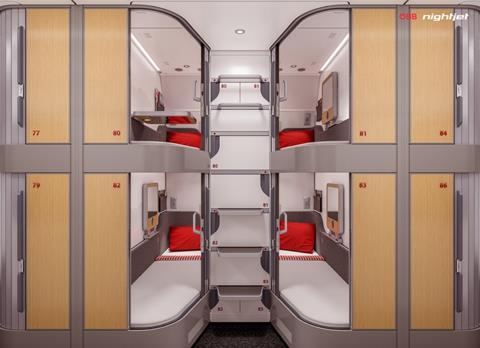 An initial firm order for 13 Nightjet sets was placed in August 2018, and these are currently being assembled at Siemens Mobility's Wien plant for use on services from Austria and Germany to Italy from December 2022.
The 20 sets in the latest order are to be deployed on the Wien/Innsbruck – Hamburg/ Amsterdam, Wien/Graz – Zürich and Zürich – Hamburg/Amsterdam routes.
Each seven-car train will have two seating coaches, two sleeping cars and three couchette cars. The sleeping car compartments will have a private toilet and shower, while the couchette cars will feature 'mini cabins' providing more privacy for single travellers. Every set will include a multifunctional vehicle with a low-floor entrance, a barrier-free couchette compartment, and an accessible toilet.
The sustainable future of travel
The latest order 'is an important step in positioning ÖBB as the market leader in Europe's night train business', said ÖBB CEO Andreas Matthä.
'ÖBB is already Europe's largest night train operator, and with the new state-of-the-art Nightjet fleet, we will further reinforce our position and offer our travellers first-class comfort'.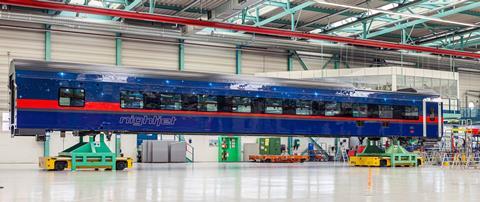 Siemens Mobility CEO Michael Peter said 'with the new Nightjets, ÖBB is investing in the sustainable future of travel. Night trains provide climate-friendly overnight connections between European cities, make rail journeys more comfortable and attractive, and thus make an important contribution toward achieving climate goals.'
'We are building the European night train network of the future from Wien', commented Austria's Minister for Climate Protection, Environment, Energy, Mobility, Innovation & Technology Leonore Gewessler. 'By 2025, a total of 33 new Nightjets will be operating throughout Europe. Board the train in the evening and wake up refreshed at your destination the next morning. I'm really looking forward to it.'