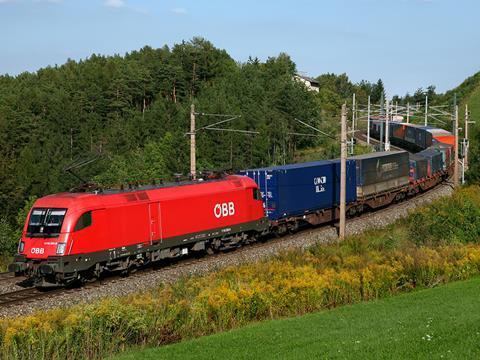 AUSTRIA: Siemens AG Österreich has submitted the best bid for a framework contract covering the supply of up to 200 freight locomotives, Austrian Federal Railways told the shortlisted bidders on January 16.
Formal award of the contract is still subject to the 10-day regulatory standstill period during which other bidders can appeal against the decision.
In October 2015 ÖBB invited expressions of interest in the contract to supply three types of locomotive equipped to operate in various combinations of countries.
Lot 1 covered the 'Standard Locomotive', a four-axle 120 km/h design rated at 5·6 MW which would be required in an AC-only version with a last-mile diesel engine, and in two multi-system versions with and without Italian certification.
Lot 2 covered a 120 km/h 'Super Cargo West' electro-diesel rated at 5·6 MW when operating under AC electrification and at 1·8 MW when running on diesel power.
Lot 3 covered a 'Super Cargo East' locomotive, a six-axle 120 km/h AC electric rated at 5·0 MW with an optional last-mile diesel engine.
Austrian Federal Railways locomotive tender
Contract
Lot 1: Standard

locomotive

Lot 2: Super Cargo West
Lot 3: Super Cargo East
Electrifcation
AC
Multi-system + Italy
Multi-system excluding Italy
AC
AC
Number
50
25
25
50
50
Initial order
30
30
10
Size of subsequent options
10
10
10
10
10
First delivery
2017
2017
2017
2020
2017
Rating, kW
≥5600
≥5600
≥5600
≥5600
≥5000
Diesel engine, kW
essential
350
no
no
1 800
no
desirable
≤500
≤350
≤350
no
350
Axles
4
4
4
4 or 6
6
Maximum speed, km/h
≥120
≥120
≥120
≥120
≥120
Tractive effort, kN
≥300
≥300
≥300
≥450
≥450
Certified for operation
Germany
yes
yes
yes
yes
desirable

Austria

yes
yes
yes
yes
Hegyeshalom (Hungarian border) - Wien;
rest of the country desirable
Hungary
yes
yes
yes
yes
yes
Romania
yes
desirable
desirable
yes
yes
Bulgaria
yes
desirable
desirable
yes
yes
Turkey
yes
desirable
desirable
yes
desirable
Croatia
yes
yes
yes
yes
desirable
Slovakia
yes
yes
yes
yes
desirable
Serbia
yes
desirable
desirable
yes
desirable
Czech Republic
25 kV
yes
yes
yes
Poland
yes
yes
desirable
Italy
yes
desirable
Bosnia
desirable
desirable
desirable
desirable
desirable
Macedonia
desirable
desirable
desirable
desirable
desirable
Greece
desirable
desirable
desirable
desirable
desirable
Belgium
desirable
desirable
desirable
Netherlands
desirable
desirable
desirable
Slovenia
yes
yes
desirable