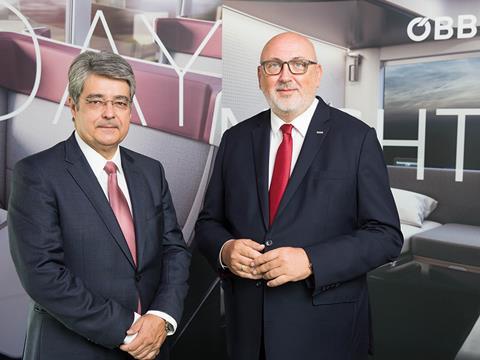 AUSTRIA: Austrian Federal Railways and Siemens Mobility have signed a five-year framework agreement for the supply of up to 700 coaches with a potential total value of €1·5bn, with an option to extend the agreement beyond 2023.
ÖBB has placed an initial firm order for eight nine-car rakes to replace EuroCity stock which cannot be used on routes to Italy from 2021 because of changes to fire regulations. The order also includes 13 seven-car rakes to replace or augment vehicles currently uses on Nightjet overnight services. The coaches from Siemens' Viaggio family will be produced at the manufacturer's Wien plant for entry into service from 2022.
Tendering for the contract was interrupted last year after a legal challenge to specification changes made at a late stage. Siemens was named preferred bidder on July 20 this year, and the signing of the contract was announced on August 17.
The framework covers first and second class coaches, driving cars, multipurpose cars and sleeping and couchette cars. Siemens said the basic variant for daytime use would be a low-floor coach with 'extra-wide' doors to facilitate rapid boarding and alighting. The daytime rakes would have 520 seats, while the night trains would offer 100 seats and 160 couchette berths. The coaches will have LED interior lighting, air-conditioning and a fresh air supply regulated by the CO2 content in the interior air.
The vehicles are intended to operate in Austria, Germany, Italy and Switzerland, and there are options to add Croatia, the Czech Republic, Hungary, Poland, Slovakia and Slovenia.
'Being awarded one of Europe's largest passenger coach tenders shows that our Viaggios are the benchmark for modern long-distance transport', said Siemens Mobility CEO Sabrina Soussan. 'Viaggio passenger trains offer great flexibility across borders as well as state-of-the-art passenger comfort, combined with low maintenance costs and high operational availability.'