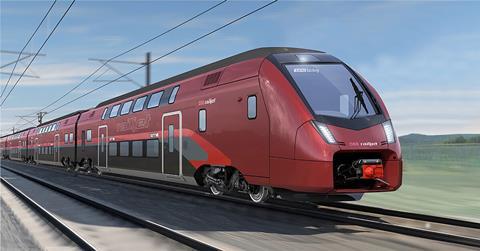 AUSTRIA: Austrian Federal Railways has awarded Stadler a firm order to supply the first double-deck vehicles for its Railjet long-distance fleet, along with additional electric multiple-units for Cityjet local services.
The €600m firm order for 35 Kiss EMUs signed on July 6 has been placed as the first option under a 2022 framework agreement covering up to 186 trains, and takes the total ordered so far to 76. The first EMUs from the initial order are scheduled to enter service in eastern Austria from mid-2026.
The latest order includes a further 21 four-car Cityjet units with around 380 seats for local services in Wien, Niederösterreich and Burgenland.
It also includes 14 six-car 200 km/h sets intended for use on long-distance routes with frequent stops. These will initially be used on the Wien – Salzburg service, and once the Semmering base tunnel opens in 2030 they will also be used on the route from Wien towards Graz, Klagenfurt and Villach.
The Railjet EMUs will have 480 seats in two classes, two wheelchair spaces, eight cycle spaces, eight toilets and two drink and snack vending machines.
Stadler said passengers can 'expect a modern interior design', with 'comfortable' seats with power outlets in every row. All coaches will have a low-floor entrance and a multi-purpose area for passengers with bicycles, pushchairs or luggage, as well as air-conditioning, wi-fi a real-time passenger information system and CCTV. The wheelchair spaces will have height-adjustable side wall tables.
'The passenger boom continues'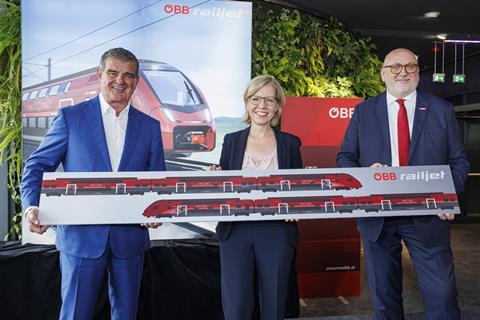 'At ÖBB, the passenger boom continues', said the operator's CEO Andreas Matthä when the latest order was signed. 'Long-distance transport recorded a total of 41·6 million passengers in 2022 — even surpassing our previous record year of 2019.
'Not only are we very proud of this result, but we are also implementing other measures to further increase capacity on our trains. We are investing in the heart of our long-distance service, the Railjet, and will be adding modern Railjet double-decker trains to the existing fleet for the first time.'
Federal Minister for Climate Action, Environment, Energy, Mobility, Innovation & Technology Leonore Gewessler said 'people in Austria want to travel in a climate-friendly manner, as shown by the KlimaTicket, which has already been sold 237 000 times. People are willing to switch to public transport if it is cheap, convenient and attractive. With the new double-decker trains, ÖBB is meeting this demand.'
Stadler is to expand its Wien site to support its increasing business in Austria, with an engineering hub to join the existing sales centre. This will create around 50 jobs for development, approval and servicing engineers.