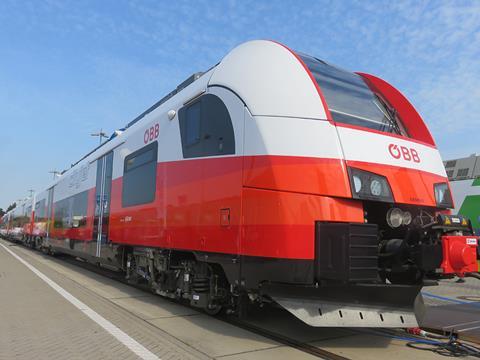 AUSTRIA: Austrian Federal Railways has placed a firm order for Siemens Mobility to supply a further 11 Desiro ML Cityjet electric multiple-units by the end of 2021.
The order announced on January 31 is the last to be placed under a 2010 framework contract covering up to 200 three-car units. The first 101 entered service in eastern Austria from 2015. An option for 64 more was exercised in 2016, and a further 24 were ordered in March 2019.
Production of the EMUs is being undertaken by the Siemens Mobility plant at Krefeld in Germany in co-operation with ÖBB-Technische Services in Wien Jedlersdorf.
The final batch of units will be equipped with ETCS, which will be retrofitted to the rest of the fleet by the end of 2023. The design of the entrance areas has also been changed to ease passenger flow and help maintain punctuality on Wien S-Bahn services.
Like the 24 units ordered in 2019, the final batch will have provision for conversion to battery hybrid technology, enabling emission-free operation on non-electrified lines.