AUSTRIA: Austrian Federal Railways has selected Stadler for a framework contract to supply up to 120 battery-electric multiple-units to replace diesel traction on partly electrified routes.
The 10-year framework agreement announced on July 21 is worth up to €1·3bn. It is to be signed later this year, along with a firm order for an initial 16 trains to enter service in eastern Austria from 2028.
The Flirt Akku units will have a range of around 100 km on battery power, enough for almost all the non-electrified routes in Austria, with the batteries charged where overhead electrification is available.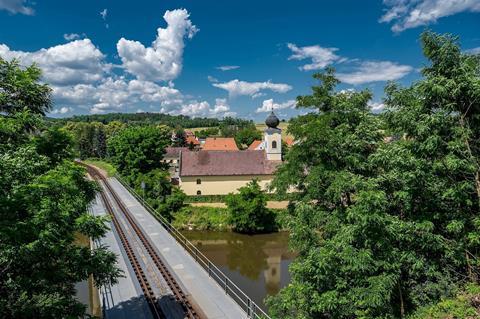 The first deployment will be on the 44 km Kamptalbahn linking Hadersdorf am Kamp with Sigmundsherberg.
Stadler has previously won orders to supply 55 Flirt Akku units to Schleswig-Holstein transport agency NAH.SH, while DB Regio has ordered 44 for use in Rheinland-Pfalz and 14 for H-Netz services in Mecklenburg-Vorpommern.
'If we are to meet the climate targets, rail transport in turn must become even more sustainable', said Stadler Chairman Peter Spuhler. 'That is why Stadler has invested heavily in green propulsion solutions to replace diesel fleets and has established its position as a leading provider of sustainable rail transport in recent years — both in Europe and the USA.'
Siemens is also understood to have bid for the ÖBB contract. Looking ahead, the national operator is planning a tender for the supply of up to 540 electric multiple-units for local services, with initial orders for up to 200 envisaged.