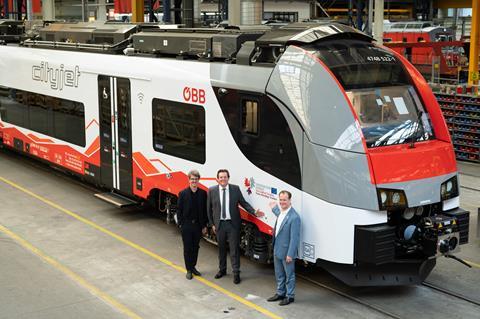 AUSTRIA: The first of 20 Cityjet Class 4748 electric multiple-units for use by Austrian Federal Railways in Tirol has been completed.
The EMUs from Siemens Mobility's Desiro ML family are scheduled to enter service on the route between Innsbruck and Kufstein from October, with other routes gradually following including Landeck to Innsbruck and, from 2024 Wörgl to Salzburg.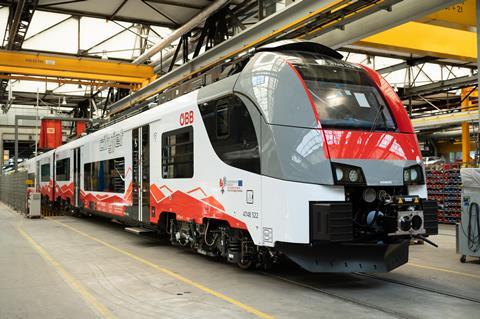 The four-car Class 4748 units are 102 m long with 290 seats, two wheelchair places and space for 24 bicycles, skis and pushchairs. One of the two toilets is fully accessible. They carry a custom mountain-themed livery for Tirol.
'The ongoing modernisation of our fleet should inspire even more people to travel by train', said the head of ÖBB-Personenverkehr Klaus Garstenauer when the EMU was unveiled at the ÖBB Train Tech workshop at Jedlersdorf in Wien on July 7. 'With the state-of-the-art Cityjet Desiro ML, we try to meet the needs of all travellers in Tirol, from commuters to leisure users.'
ÖBB has been operating Class 4744 and 4746 Desiro ML EMUs since 2015.