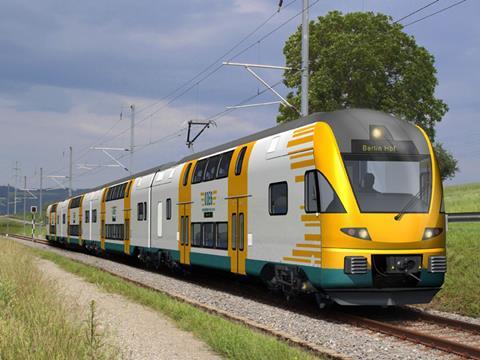 SWEDEN: Leasing company AB Transitio announced on June 17 that it has ordered a build of 33 Kiss double-deck EMUs from Stadler at a cost of SKr3·5bn to operate regional services around Stockholm from 2018.
The order has been placed by Transitio on behalf of the MÄLAB joint venture bringing together the local transport authorities in the Stockholm, Sörmland, Örebro and Västmanland regions. These regions are responsible for procuring Mälartåg services on four corridors in and around the capital, which are to be expanded and retendered following the opening of the Citybanan cross-city tunnel in 2017.
The four-car units will be 105 m long and designed for a maximum speed of 200 km/h; they will be able to operate in multiple up to a maximum of four sets.
The Kisses will operate on the Svealandsbanan route linking Örebro, Eskilstuna, Stockholm and Uppsala, the Sörmlandspilen service from Stockholm to Katrineholm and Hallsberg, the Nyköpingsbanan from Stockholm to Norrköping and Nyköping, and the Uven cross-country service connecting Sala and Linköping via Västerås, Eskilstuna and Katrineholm.