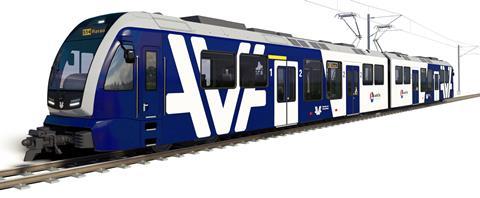 SWITZERLAND: Aargau Verkehr has awarded Stadler a SFr39·5m contract to supply five ABe4/8 Saphir II metre-gauge electric multiple-units for use on the 22 km Wynental and 10 km Suhrental lines west of Zürich from December 2025.
The firm order has been placed as an option on a 2016 contract for Saphir I units which were delivered in 2019. 'With the expansion of our Saphir fleet, we are ensuring standardisation and bringing better comfort to our passengers', said Aargau Verkehr CEO Severin Rangosch at the signing ceremony in December.
The low-floor 750 V DC EMUs with a maximum speed of 80 km/h will have two cars rather than the three of Sphir I sets, making them around 20 m shorter at 40·1 m long and 2 650 mm wide.
They will have 12 seats in first class, 67 in second class and six folding seats, along with space for up to 168 standing passengers. Two multifunctional areas will provide space for pushchairs, wheelchair users, luggage and bicycles.
Saphir I and II units will be able to run in multiple to match capacity to passenger demand.