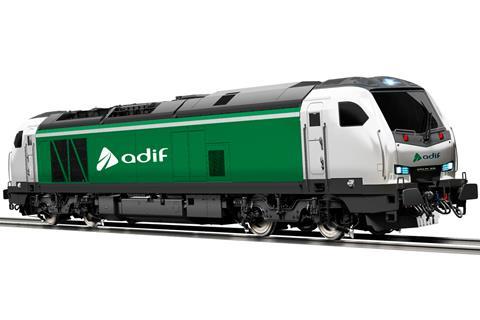 SPAIN: Infrastructure manager ADIF has signed a contract for a consortium of Stadler and Erion to supply 22 Eurolight diesel-electric locomotives for use on maintenance, rescue, inspection and snow clearing trains on the 1 435 mm gauge high speed network, the Swiss company announced on October 18.
The consortium had been named preferred bidder on July 31. The contract is worth €115m, including eight years of maintenance which is to be provided by the Erion joint venture of majority shareholder Stadler and Spanish national operator RENFE.
Stadler said the lightweight four-axle locomotives with a 2·8 MW engine, AC transmission and an 'innovative' adhesion control system would have a maximum speed of at least 160 km/h and be able to haul trains of up to 600 tonnes.
The TSI-compliant locos will be fitted with GSM-R and the ETCS and national ASFA signalling systems, and are designed to operate at temperatures between -25ºC and +45ºC.