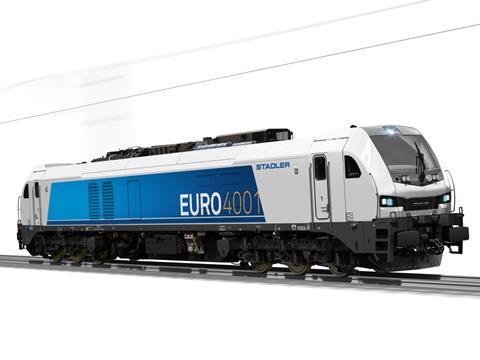 FRANCE: Rolling stock leasing company Alpha Trains has ordered nine Euro 4001 diesel-electric locomotives from Stadler Rail Valencia to expand its growing business in the French rail market, the company announced on June 7.
The 2 800 kW six-axle locomotives are to be leased to SNCF's open access freight operating subsidiary VFLI under a long-term agreement. They will be fitted with ETCS onboard equipment and certified for operation in France and Belgium; delivery is scheduled for 2020.
The order forms part of a €40m package deal signed by VFLI on May 31, under which the operator will also purchase three Euro 4001s directly from Stadler. It is also buying the EuroDual electro-diesel prototype, which has a nominal rating of 6 000 kW under 1·5 kV catenary, according to VFLI Director-General Alain Ribat.
Launched at Transport Logistik 2017 in München, the 160 km/h Euro 4001 is an evolution of the Euro 4000 design. Alpha Trains currently owns 30 Euro 4000s which are leased to various operators in Spain and Portugal, while VFLI owns five and leases another 12 from Beacon Rail.
Whereas the Euro 4000 was powered by a Stage IIIa compliant EMD Series 710 engine, the Euro 4001 is fitted with a Caterpillar C175-16 engine and SCR exhaust treatment to meet the more stringent Stage IIIB emissions requirements. It retains the same AC transmission package with independent control of the traction motors on each axle.
The leasing company has been working with VFLI since 2005 and the Managing Director of Alpha Trains Locomotives Fernando Pérez said it was 'pleased to expand our co-operation' with the latest deal.