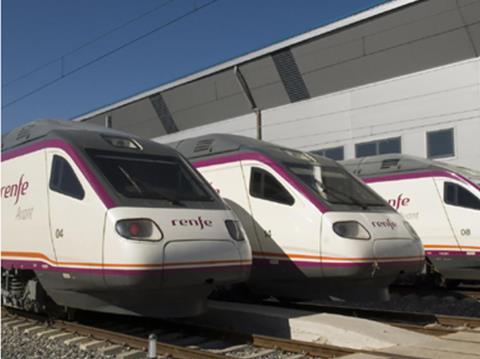 SPAIN: National operator RENFE has renewed three contracts for Alstom to undertake the full maintenance of 15 S-104 Avelia Pendolino high speed trainsets and to provide preventive, predictive and corrective maintenance of 106 suburban multiple-units
The contracts have a total value of €125m, with the work to be undertaken by the Irvia joint venture of Alstom (51%) and RENFE (49%).
The contracts covering the suburban trains run for four years, with an option for a further year. Maintenance will continue to be managed at RENFE's depots in Vilanova, Moncada and Mataró in the Barcelona area.
The Pendolino trainsets supplied in 2002-05 and now used on services from Madrid to Ciudad Real, Puertollano, Toledo, Córdoba and Sevila will be maintained at Cerro Negro in Madrid and La Sagra near Toledo.