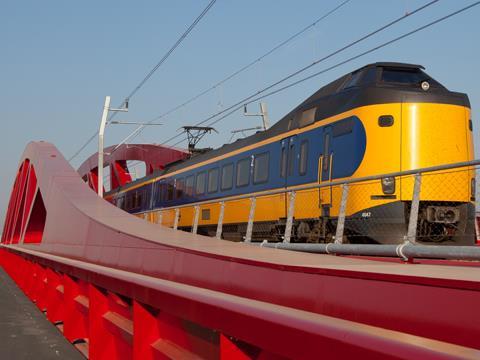 NETHERLANDS: National passenger operator NS announced on May 2 that it had selected Alstom as preferred bidder for the supply of 80 next-generation inter-city trainsets.
Following a European tender, NS shortlisted four bidders earlier this year to submit best and final offers. According to the operator, Alstom achieved the best score on criteria including reliability, investment, maintainability, energy efficiency, design of the trains for both passengers and staff, and support for the new fleet following delivery and authorisation.
Following the standstill period in which other shortlisted bidders may challenge the decision, NS will open negotiations with Alstom to finalise the contract, which it expects to sign 'this summer'. This would be followed by a final design phase ahead of the start of production. Subject to testing and approval, the IC-NG trainsets are expected to enter revenue service from 2021, replacing the existing ICM and IC Direct trainsets.
The 200 km/h single-deck IC-NG trainsets are required to operate inter-city services on both the conventional network and the HSL-Zuid high speed line. NS says the favoured design 'is based on a train that already runs in several countries'; it is reported to be part of the manufacturer's Coradia family. As well as the initial order for 80 trainsets, the contract would include options for additional units.
NS says the base order would provide 25 000 seats, equivalent to around 300 per unit. The fully-accessible trainsets will have wheelchair spaces, accessible toilets, on-board wi-fi, advanced passenger information displays and LED lighting with 'intelligent light control'. At-seat power supplies and USB sockets would be provided in both first and second class, while the trains will offer greater luggage space compared to the units that they replace.
NS says it is investing more than €2·5bn in modernisation and expansion of its rolling stock fleet. It is due to introduce 58 Stadler FLIRT EMUs next year, followed from 2018 by 118 New Sprinter EMUs to the CAF Civity design. NS is currently modernising 81 VIRM double-deck EMUs, and has awarded contracts for the retrofitting of toilets to 131 Sprinter Lighttrain EMUs supplied by Bombardier and Siemens.