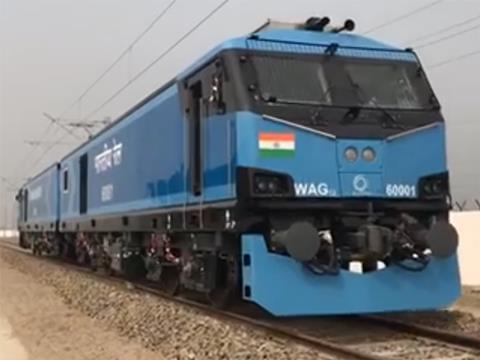 INDIA: The first of 800 WAG12 twin-section electric locomotives which Alstom is supplying to Indian Railways is now on test at a purpose-built factory in Madhepura.
First 12000 HP freight locomotive (WAG 12) under test in Ministry of Railway-Alstom Joint Venture factory 'Madhepura Electric Locomotive Pvt. Ltd.' at Madhepura in East Central Railway @RailMinIndia @PiyushGoyalOffc pic.twitter.com/kYqaieCnjl
The factory has been developed on a 100 ha greenfield site by a joint venture of Alstom (74%) and Indian Railways (26%) under a contract awarded by the Ministry of Railways in November 2015. The contract allows the first five locomotives to be imported, and the first pair of bodyshells were delivered to Madhepura for fitting out in September 2017. The remaining 795 locomotives must be manufactured domestically in support of the government's Make in India campaign.
The 9 MW Prima T8 locomotives will have a maximum speed of 120 km/h. They are a development of Alstom's Prima family that includes locomotives supplied to Kazakhstan, with modifications to suit Indian requirements including 1 676 mm gauge. ABB is supplying transformers and Knorr-Bremse braking systems for the new fleet.
Indian Railways intends to use the locomotives to haul 6 000 tonne trains at 100 km/h on the Eastern Dedicated Freight Corridor, and on other routes to raise the average speed of heavy freight trains from between 25 and 30 km/h to between 50 and 60 km/h.