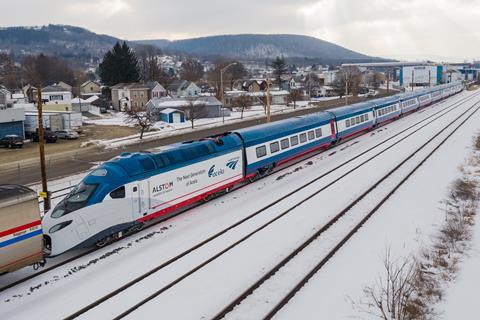 USA: The first of Amtrak's next generation of trainsets for Acela Express services on the Northeast Corridor has left Alstom's Hornell plant in New York state for nine months of dynamic testing at the Transportation Technology Center near Pueblo, Colorado.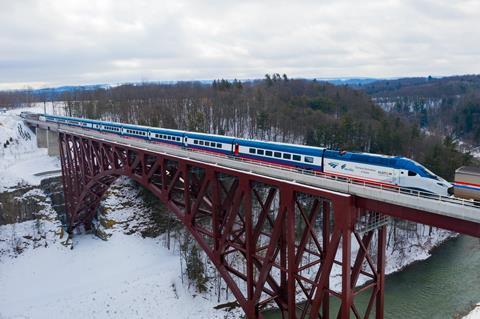 Following testing, it will return to Alstom for the interiors to be installed. The 28 trainsets ordered in 2016 and branded Avelia Liberty by the manufacturer are scheduled to enter service on the 735 km route linking Washington DC, New York and Boston from 2021.
Formed of two short-wheelbase power cars and nine articulated trailer vehicles, the trainsets will have almost 25% more seats than the current Acela fleet, and are expected to use 40% less energy per passenger. Onboard facilities will include wi-fi, power sockets and adjustable reading lights.
They have a maximum design speed of 300 km/h, but will be limited to 255 km/h on the existing NEC infrastructure.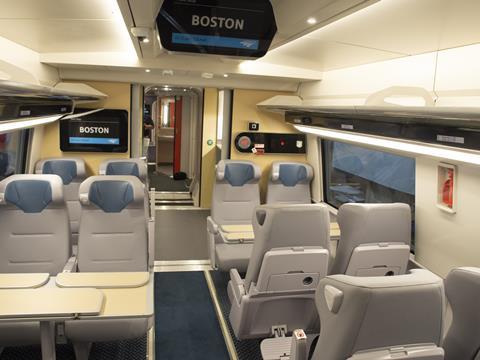 Alstom said 95% of the components were produced in the USA by almost 250 suppliers in 27 states.
The second trainset has also been assembled and is expected to be sent to Amtrak's Penn Coach Yard in Philadelphia for testing in March. Construction of the third trainset began in November and it is tentatively scheduled to go to Philadelphia for testing in September.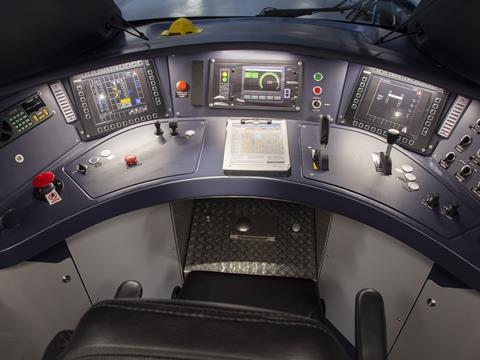 'We are bringing customers one step closer to enjoying the benefits of these new trains', said Amtrak President & CEO Richard Anderson before the first set left Hornell on February 17. 'With demand for Acela travel continuing to grow, we will test the trains to ensure customers will have safe and reliable service with modern amenities when these trains go into service next year.'
Acela services carried more than 3·5 million passengers in 2019, a 4·3% year-on-year increase. December was Acela's best-ever month, with ridership up 16% on the previous year.