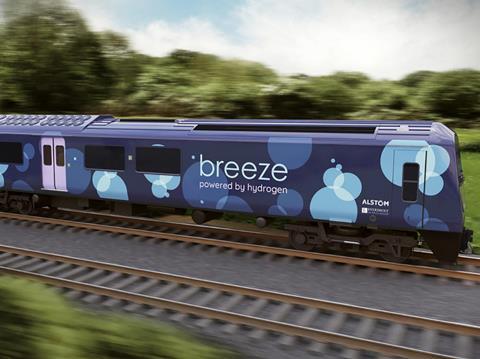 UK: The Rail Safety & Standards Board has appointed Arup to develop a 'route map to enter service' for hydrogen-powered trains. This will involve working with manufacturers, regulators, rolling stock owners and operators to establish a high-level operational concept as well as to identify hazards and regulatory obligations.
The study announced on November 26 is due to be completed in February 2020. It will also determine what level of standardisation is needed across the rail network, clarifying the route to market from a safety and compatibility perspective.
Trials of hydrogen-powered trains are a commitment under Abellio's East Midlands franchise, and several organisations have been developing hydrogen technology for the UK. The study will review their readiness to enter operation on the national network.
'It is vital that we treat the railway as a system, and when deploying a new technology, we must interrogate the operational approaches, constraints and regulatory obligations', said Albert Law, Project Director and Senior Consultant, Technical Risk at Arup. 'Managing technical risk early creates an efficient, safe and reliable environment for train operations'.
'Rail is already a naturally low-carbon transport mode, but there is still potential for the industry to make a further step change in emissions reduction', said Anthony Perret, Head of RSSB's Sustainable Development Programme. 'For rail to play a major role in enabling the UK economy to be net zero by 2050, we will need a mix of electrification, hydrogen and battery technology. This study will highlight our readiness to embrace the emerging benefits of hydrogen powered trains on our network.'