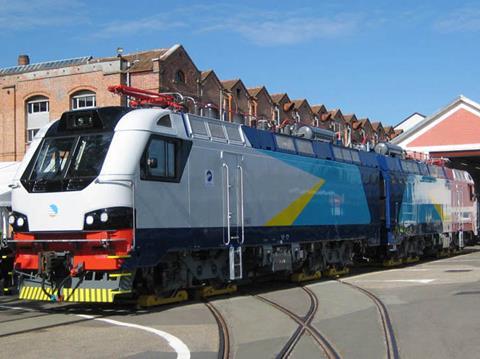 AZERBAIJAN: National railway ADDY has placed a €300m order for 50 Alstom KZ8A twin-section 25 kV AC electric freight locomotives to be delivered in 2016-18.
The locomotives are to be supplied from Astana in Kazakhstan by the EKZ joint venture of Kazakh national railway KTZ (50%), Transmashholding (25%) and Alstom (25%).
Alstom's share of the contract announced on May 12 is worth €150m. Options for the construction of a depot, technical assistance, maintenance and staff training are to be negotiated in the next six months.
EKZ is supplying 200 of the KZ8A locomotives to KTZ under a contract signed in March 2011. The 1 520 mm gauge KZ8A is rated at 8·8 MW, has a maximum speed of 120 km/h and can haul up to 9 000 tonnes.
'Azerbaijan is a strategic transit point between Europe and Central Asia', said Thibault Desteract, Senior Vice-President of Alstom Transport Russia & CIS. 'The modern KZ8A freight locomotives will help increasing its carrying capacity in transportation of raw materials and goods.'
According to Alstom, 1 278 km of Azerbaijan's 2 932 km network is electrified at 3 kV DC. In 2006 Azerbaijan railways launched a long-term modernisation programme which includes a gradual switch from DC to 25 kV AC electrification and envisages a doubling of current traffic volumes by 2017.
Alstom and Baku Metro have signed a 'memorandum of mutual co-operation' to develop modern metro cars for use on new lines and the gradual replacement of the existing fleet. A final agreement is to be signed within two months.