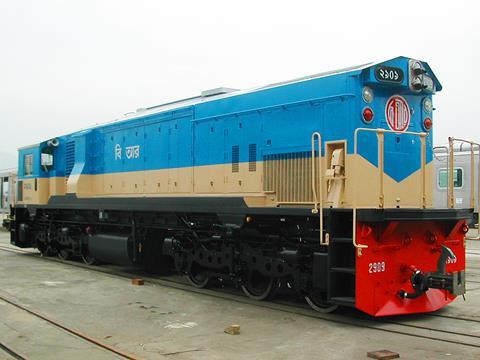 BANGLADESH: Hyundai Rotem is to supply 10 mixed-traffic diesel-electric locomotives to Bangladesh Railway under a 41bn won contract announced on May 18.
Intended for mixed traffic use on the metre gauge Dhaka – Chittagong route, the locomotives will be delivered from Hyundai Rotem's Changwon plant in South Korea starting in the first half of 2020.
BR had called tenders in 2016 for up to 70 locomotives at an estimated cost of 26bn taka, attracting bids from CSR Ziyang, CSR Sifang, Vossloh España and Grindrod as well as Hyundai Rotem.
The procurement was formally approved on May 16 by the government's Cabinet Committee on National Purchasing, with Railways Minister Mujibul Haque saying at the contract signing ceremony that a second contract for 20 locomotives would follow.
Hyundai Rotem supplied 39 locomotives of Class 2900 to BR in four builds between 1999 and 2013, built under licence from EMD and based on the 16-strong Type GT18L-2 locos built by General Motors Canada in 1988 as Class 2600.