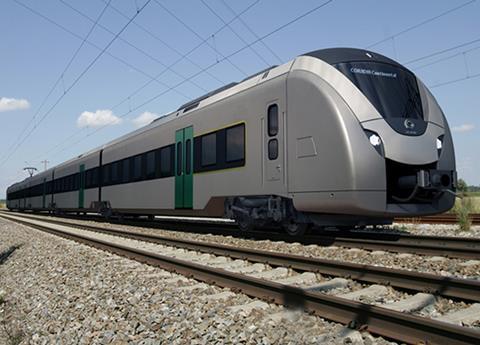 GERMANY: Mittelsachsen transport authority ZVMS has reached an agreement for an order for 11 battery multiple-units to be financed by mandated lead arranger KfW IPEX-Bank with Nord/LB and Deutsche Kreditbank. The financing package is worth €49m and has a term of 22 years.
The order is expected to be finalised in January. The Coradia Continental battery units would be produced at Alstom's Salzgitter site, and equipped to operate from conventional 15 kV 16·7 Hz electrification or using battery power on non-electrified routes.
VMS intends to deploy the units from 2023 on Leipzig – Chemnitz service RE6 which is currently operated by Transdev's Mitteldeutsche Regiobahn using Siemens ER20 diesel-electric locomotives and coaches.
The transport authority believes the use of battery traction would help to protect the environment, while offering a quick way of raising speeds by 20 km/h to 160 km/h and improving passenger comfort.
Electrification of the route is envisaged in the longer-term, at which point the units could be converted to conventional overhead electric operation.
The group of three banks previously financed 29 conventional EMUs for ZVMS in 2014.
Announcing the latest agreement on December 17, KfW IPEX-Bank management board member Andreas Ufer said it would directly contribute to reducing CO2 emissions, and also support the promotion of new and sustainable technologies.