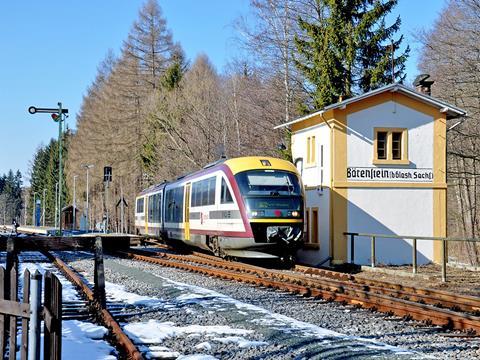 GERMANY: Oberlebe transport authority VVO, Bombardier Transportation and Technischen Universität Berlin are to study the feasibility of using battery power instead of diesel multiple-units on four routes around Dresden.
Städtebahn Sachsen services are currently operated using Siemens Desiro DMUs, but the transport authority envisages that the start of the next operating contract in 2024 could offer an opportunity to switch to traction producing no emissions at the point of use.
The current diesel services operate over some sections of track electrified at 15 kV 16·7 Hz, and the Land of Sachsen envisages further electrification will be undertaken. VVO believes this could provide an opportunity to use multiple-units capable of operating from either overhead or battery power.
Bombardier Transportation is currently testing a prototype battery-equipped version of its Talent 3 electric multiple-unit at its Henningsdorf factory in Berlin, with entry into service planned for 2019.