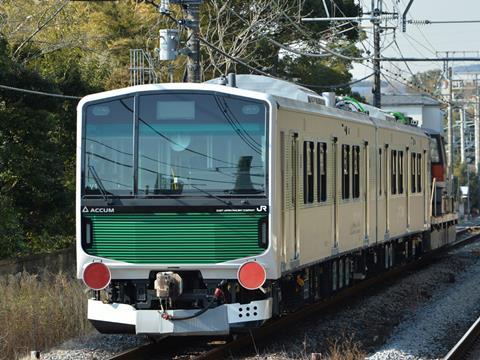 JAPAN: East Japan Railway's Series EV-E301 prototype 1·5 kV DC/battery electric multiple-unit was delivered to the Karasuyama Line on January 22, ready for the start of test running.
Branded 'Accum', the two-car unit is derived from the experimental 'Smart Denchi-kun' battery railcar which was tested on the same line in 2012. It comprises a pair of 40 tonne motor cars with all axles powered, and has a maximum speed of 100 km/h. Each vehicle is equipped with 95 kWh lithium-ion batteries. Longitudinal seating is fitted in both cars, giving a total capacity of 99 seated and 265 standing passengers. LED lighting is used throughout, but no toilet has been provided.
JR East plans to operate the BEMU on through services between Utsonomiya and Karasuyama vi Hoshakuji, running as a conventional EMU on the Tohoku Main Line which is wired at 1·5 kV DC and using its batteries on the non-electrified branch. A recharging facility has been provided at Karasuyama where the batteries can be topped up using the pantograph fitted to one of the vehicles.
If the initial trials are successful, JR East hopes to order additional EV-E301 trainsets to replace the remaining diesel trains used on the line.