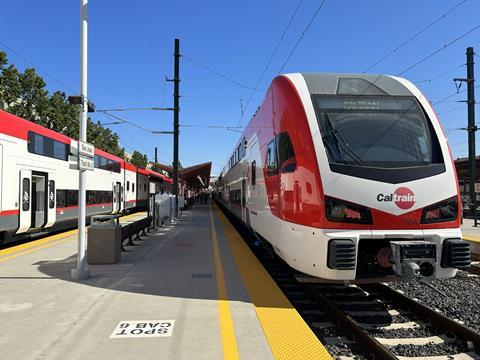 USA: The California Transportation Commission has approved funding for Stadler to supply a battery-electric multiple-unit which will enable Caltrain to extend its future San Francisco – San Jose electric train service to Gilroy over track which is not currently scheduled for electrification.
The funding allocated on August 17 comes from a $80m California State Transportation Agency grant. It covers the purchase of a four-car double-deck BEMU as an option on Caltrain's existing contract for Stadler Kiss EMUs, along with testing at the Transportation Test Center in Pueblo and enhancements to the San Jose Central Maintenance Facility and Gilroy station.
The battery will be charged when the BEMU is running under the 25 kV 60 Hz overhead which is being installed on the 82 km route between San Francisco and San Jose for operation from autumn 2024. The battery will then provide power beyond the wires on the non-electrified continuation of the route from Tamien to Gilroy. There will also be demonstration trips beyond Gilroy to Salinas.
The BEMU is expected to offer lower emissions, faster journey times and lower costs than a diesel locomotive. The unit will also be able to operate in the event of overhead electrification equipment failures or supply outages.
'With the BEMU we will not only create a more sustainable and environmentally friendly service, but also faster and more reliable travel times for riders', said Caltrain Chair Jeff Gee when funding was approved on August 17.
Replacing diesel locos
California's state Transportation Secretary Toks Omishakin said the 'efficient, state-of-the-art train' would 'lead to improved service for riders and cleaner air between San Francisco and Gilroy, as well as serve as a demonstration train for expanded battery-electric inter-city rail service in the future'.
Caltrain said it would be the first double-deck commuter BEMU in the USA, and would be tested on other inter-city and regional routes where feasible.
The aim is to develop a roadmap for future BEMU procurement and operation, with a view to enabling operators to replace ageing diesel locomotives and transition to electric services without needing to electrify an entire route.
Mayor of San Jose Matt Mahan said 'Silicon Valley has a reputation for first of its kind innovations, and our transportation sector is no different. This project will pave the way for Caltrain to retire their diesel fleet and operate a fully zero-emission service for future generations.'
Earlier in August the Caltrain board approved the exercising of options for Stadler to supply a further four EMUs, on top of the 19 seven-car sets already ordered. Along with the battery train, these will enable Caltrain to run more than 90% of its services with electric traction.