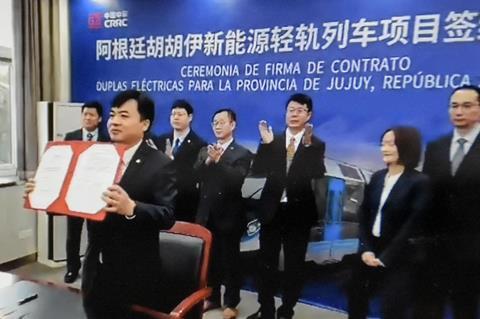 ARGENTINA: Governor of Jujuy province Gerardo Morales has signed a contract for CRRC Tangshan to supply battery-powered 'new-energy light rail' trainsets for use on a tourist service between Volcán and Tilcara.
The two-car articulated trains will have lithium batteries charged using solar power, a maximum speed of 60 km/h and a capacity of 72 passengers.
Work to rehabilitate the 42 km route began in April. The trains are scheduled to be delivered in September 2023, and reopening is planed for spring 2024.
The project forms the first stage of the province's three-phase railway revival plan. The next stage would be the reopening of the Tilcara to Humahuaca route, followed by Humahuaca to La Quiaca on the border with Bolivia.