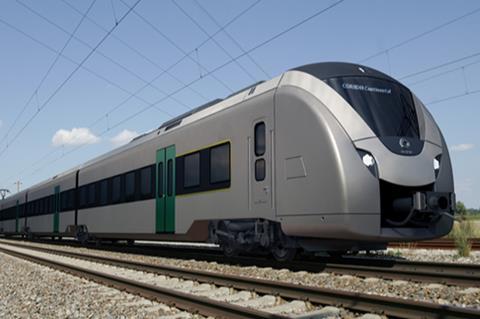 GERMANY: Mittelsachsen and Leipzig transport authorities ZVMS and ZVNL have agreed to order 11 three-car battery-powered versions of Alstom's Coradia Continental multiple-units for use on Chemnitz – Leipzig service RE6 from 2023.
Route RE6 is currently operated by Transdev's Mitteldeutsche Regiobahn using Siemens ER20 diesel-electric locomotives and coaches.
The transport authorities said the use of battery traction would help to protect the environment, while offering a quick way of improving speed and comfort on the route.
'The rail link between Chemnitz and Leipzig will be noticeably faster, more comfortable and more environmentally friendly', said ZVMS Managing Director Harald Neuhaus.
The air-conditioned multiple-units would have 150 seats including nine in first class, all with tables and power sockets. There would also be six bicycle spaces.
Services would typically be operated with pairs of units. The maximum speed would be 160 km/h, an increase of 20 km/h from the current services and enabling journey times to be reduced by up to 6 min.
The roof-mounted batteries would be charged at Chemnitz and Leipzig stations using conventional pantographs, with a charging time of around 30 min.
It is envisaged that the route would be upgraded and electrified in the longer-term, at which point the units would be converted to conventional overhead electric operation.