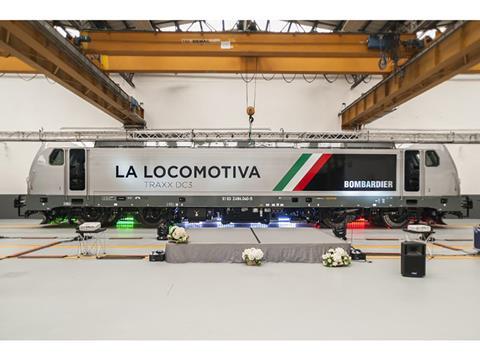 ITALY: 'The new Traxx DC3 represents a generational leap in the market, a state-of-the-art locomotive, able to maximise energy efficiency, ensuring greater load, traction capacity and lower energy consumption' said Luigi Corradi, CEO & Managing Director of Bombardier Transportation Italy, when the first of the new freight locos was officially unveiled at the manufacturer's Vado Ligure plant.
Italian operators Mercitalia Rail, Captrain Italy, GTS and Locoitalia are the first customers for the 3 kV DC electric locomotive design.
Bombardier said the locomotive was designed around digital maintenance systems including condition-based maintenance, big data and internet of things technology. 'Its flexibility and our strong maintenance offering will not only reduce total cost of ownership, but also enable Italian freight operators to expand their business', said Peter Amman, Head of Global Ecosystem Freight.
The DC3 can be supplied or retrofitted with 'last mile' capability for use on non-electrified tracks in freight terminals and ports.