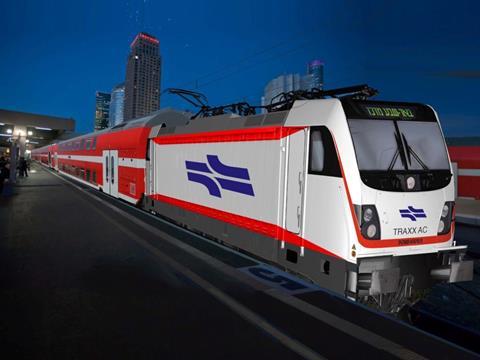 ISRAEL: Bombardier is to supply 62 Traxx AC electric locomotives to Israel Railways under a contract announced by the railway on August 5. Valued at 1bn shekel, the deal includes an option for a further 32 locos.
ISR launched an international tender in July 2014 for the supply of between 62 and 78 electric locos, which also attracted interest from Siemens, Alstom, CNR, CSR, Hyundai Rotem, Škoda and CAF. Of the four final bids received, the Chinese companies were reportedly disqualified, and Bombardier and Alstom selected for final negotiations at the end of July. The two companies submitted their financial offers on August 3.
The 6 MW Traxx locomotives will be designed to operate in push-pull mode with trains of up to eight double-deck or 12 single-deck coaches carrying up to 1 400 passengers at a maximum speed of 160 km/h. Bombardier is already assisting ISR with the conversion of 294 push-pull double-deck coaches from diesel operation to work with the future electric locos as part of the 13·7bn shekel electrification programme.
Describing the transition to an electric railway, as 'a major leap forward', ISR General Manager Boaz Zafrir said 'the electrification project is in progress, and vision becomes a reality. Electrifying 420 km of the network will significantly change the railway's capabilities, with higher speeds and a cleaner environment.'
Shortlisted bidders for the 25 kV 50 Hz electrification infrastructure works were due to submit their final bids by July 23, with construction expected to start in early 2016. ISR has also announced a tender for up to 60 double-deck EMUs.