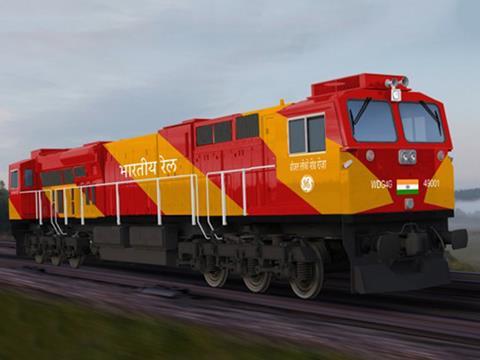 INDIA: GE Transportation has confirmed the exterior design for the initial batch of 100 diesel locomotives with Evolution Series engines that it is supplying to Indian Railways.

The external livery uses colours that are 'celebrated in India during the Holi festival', which occurs on March 13. 'The bright shades reflect the spices of the country with red representing energy and yellow representing freshness', GE says.

GE is supplying the locos under a US$2·6bn joint venture agreement with the Ministry of Railways signed in November 2015. This also covers development of a factory that would produce up to 1 000 diesel locomotives.

The plant would produce 4 500 hp and 6 000 hp diesel-electric freight locomotives with GE engines, of which the first is scheduled to be delivered in January 2018. The first 100 locomotives would be imported or assembled using imported kits, but the rest must be built in India with mostly Indian content.