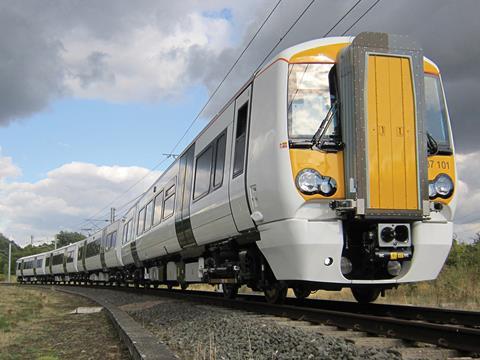 UK: Essex to London commuter operator c2c announced on April 13 an agreement with the Department for Transport which will enable it to lease additional rolling stock to cope with an unexpected increase in demand.
Subject to the signing of final contracts, c2c is to lease six four-car Bombardier Class 387 Electrostar electric multiple-units from Porterbrook Leasing. They are due to enter service between October and December under a three-year lease, and will take c2c's total EMU fleet to 320 Electrostar cars.
Last November Porterbook had announced a speculative order for Bombardier to build 80 EMU cars with no specific end user in place, saying the vehicles would 'help satisfy the future demand for mid-distance electric trains' and help 'alleviate higher than forecast passenger growth and overcrowding'.
The Porterbrook deal follows a failure to reach final agreement for c2c to sublease two Siemens Class 360 EMUs which are used on Heathrow Connect services.
Earlier this year c2c had provided compensation to season ticket holders as an apology for the disruption which had followed a major recast of the timetable in December 2015. The additional EMUs and further timetable amendments would provide 'the most significant increase in capacity for c2c passengers for over a decade', according to c2c Managing Director Julian Drury. 'Extra carriages are absolutely vital for c2c to meet the surge in demand', he said. 'This agreement is hugely important, as we will now get new carriages on c2c within six months when they normally take years to be delivered.'
In early April c2c began the formal process to procure 68 additional EMU cars. It expects to selected a preferred bidder this summer, with entry into service planned for 2019.