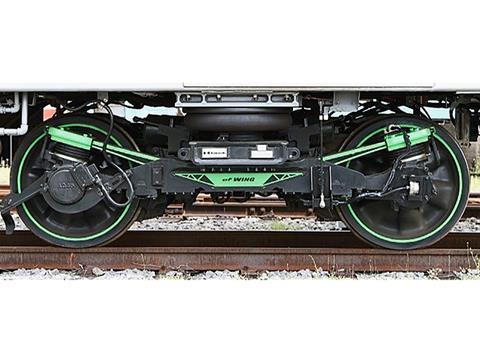 JAPAN: A Series 7200 two-car electric multiple-unit has been fitted with four of Kawasaki's Environmentally Friendly Weight-saving Innovative New Generation bogies for trials on JR Shikoku's Yosan and Dosan lines.
The efWING bogie design replaces some of the steel parts with high-strength lightweight carbon fibre reinforced plastic, and incorporates bow shaped CFRP leaf springs instead of coil springs. This offers a significant reduction in weight, and thus energy usage.
The CFRP springs enable flexing of the bogie unit as a whole, stabilising the force imparted by each wheel on the rails. This provides a smoother ride and cuts the rate of wheel-load reduction on curved by a half, further reducing the risk of derailment.