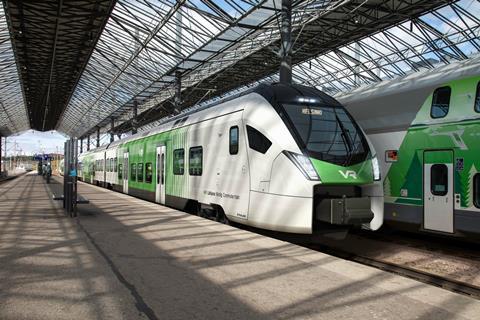 FINLAND: National operator VR has awarded Stadler a €250m contract to supply 20 electric multiple-units for entry into service on commuter routes from spring 2026, with options for 50 more and full maintenance.
VR's three priorities when tendering the contract were energy efficiency, a proven track record and providing a world class experience for passengers and its staff.
Stadler was named preferred bidder in October and the contract was signed in Helsinki on November 29, with the Swiss manufacturer's Deputy Group CEO Ansgar Brockmeyer presenting VR CEO Elisa Markula with a decorative cow bell to mark the occasion.
Markula said VR had 'defined the features we want the new fleet to have by listening to our customers' wishes and having our employees participate in the process'. Stadler's proposal had responded to these needs, winning the tender on both quality and price.
'This is what we at VR Group want trains in the future to be like', said Markula. 'Energy-efficient, accessible for everybody, spacious and comfortable to travel in.'
Finnish design and Swiss engineering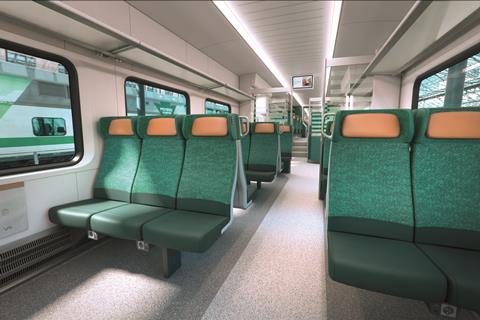 The four-car 1 524 mm gauge EMUs with a maximum speed of 160 km/h will have 356 seats and a capacity of 796 passengers.
Stadler said Finland 'is one of the most important hotspots in Europe for outstanding design', and it worked with a local agency to ensure that the trains reflect Finnish ideas of elegance and style.
The ability for commuters to work while travelling was considered important, and features include wi-fi, charging points and seats with tables for laptop computers.
There will be step-free entrance areas, and multifunctional spaces for pushchairs, wheelchairs, bicycles and luggage. The flexible interior can be reconfigured to provide more space for bicycles during the summer season, and replaced during the lifetime of the trains.
VR drivers travelled around Europe to see other operators' trains to help inform the cab design.
The EMUs are scheduled to enter services from spring 2026 on Helsinki routes D, R, T, Z and Tampere route M. This will enable the current CAF/Alstom Sm4 fleet from 1999-2005 to be redeployed to replace Valmet Sm2 trains dating from 1975-81, which do not meet modern accessibility standards, are reaching the end of their lifecycle and will be offered for sale.
VR said the new trains would be 50% more energy-efficient than its existing commuter units, thanks to their lightweight aluminium construction and the latest converter technology.
Additional services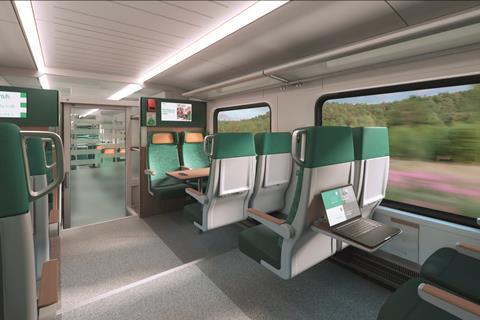 Passenger demand fell during the pandemic but VR expects to see a return to previous growth, and the options for additional EMUs would enable it to increase commuter services.
Local authorities in the Tampere area commissioned an increase in services from August this year, and VR said 'conditions are in place for this to also happen elsewhere'.
'New routes can be opened in areas where it is either profitable by ticket sales or where the state and municipalities want to acquire environmentally-friendly commuter traffic', said Markula. 'It is possible to expand the commuter traffic to areas such as Turku and Oulu as well as the area between Helsinki and Hanko once electrification is completed.'
A Finnish kind of snow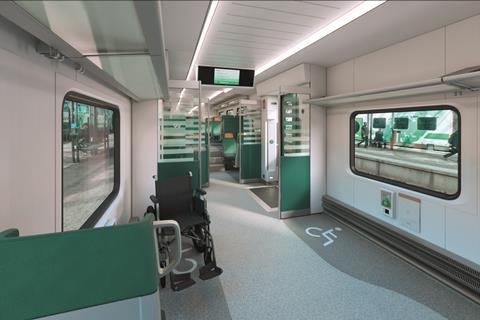 The EMUs will be assembled in Poland, with some components manufactured in Switzerland.
Brockmeyer said Stadler had extensive of experience of producing winterised trains, both in its Swiss home market and in Finland where the snow is 'very special'.
Features for Nordic conditions include large snow ploughs, air-conditioning, underfloor heating in the vestibules, heat insulation and well-sealed compartments to protect the traction equipment.
More than 2 500 Flirts have now been sold, with VR having had a positive experience with the 81 Flirt Sm5 EMUs used on Helsinki commuter services since 2009; Stadler is also currently supplying 60 Dr19 shunting locomotives to VR.
'The Flirt has proven its versatility and robustness thousands of times, from the Arctic Circle to Africa', said Brockmeyer. 'The new vehicles will provide VR's commuter passengers with an environmentally friendly, reliable and comfortable travel experience — even in harsh winter weather.'