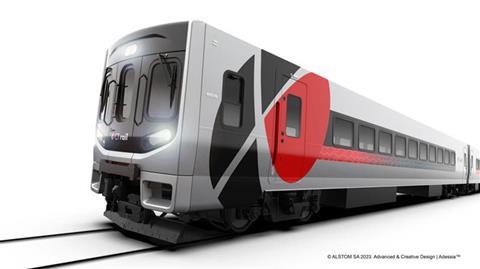 USA: Connecticut Department of Transportation has awarded Alstom a $315m contract to supply 60 single-deck coaches customised to its requirements, with options for 313 more.
They are to be delivered from 2026, initially for use on CTRail-branded regional services on the Hartford Line, which run over the Northeast Corridor, and on the Danbury and Waterford branches of the New Haven Line. These are operated as part of New York MTA's Metro-North commuter rail network, but are owned by the state of Connecticut.
CTDOT said the single-deck coaches from Alstom's Adessia family would be 'a unique rail car specific for Connecticut riders.'
The 26 m long stainless steel coaches will have a design life of at least 40 years, with a maximum speed of 200 km/h and continuous operation of up to 24 h and 1 920 km daily.
Alstom said they would be compliant with the Americans with Disabilities Act, Federal Railroad Administration and American Public Transportation Association requirements.
Features will included 2+2 seating with foldable tables and easy access for wheelchair users. They will have overhead luggage racks, a bicycle storage area, real-time information, wi-fi, power and USB sockets.
The wheelchair spaces will have 'panoramic balcony-style windows' providing natural sunlight through the interior and 'great views'.
'Having a modernised transit system with safe, comfortable and convenient access to work, homes and fun is essential to attracting the kind of businesses and workforce talent we need to grow good-paying jobs and remain economically competitive', said state Governor Ned Lamont when he announced the order on August 9. 'Connecticut is the home of the busiest rail line in the nation, and the purchase of these new rail cars continues our efforts to deliver better and more reliable service for commuters.'
Michael Keroullé, President of Alstom Americas, said the supplier would provide 'extensive expertise ranging from passenger ergonomics, experience and comfort to operational considerations and optimised maintenance practices for years to come.'