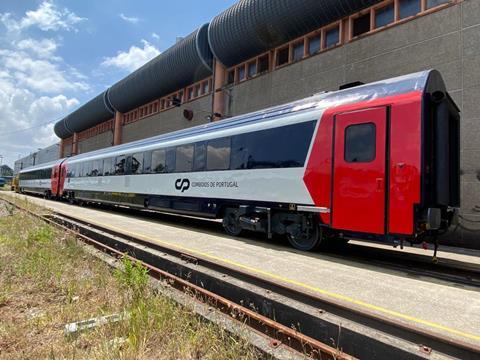 PORTUGAL: The Council of Ministers has approved investment worth €819m to enable national passenger operator CP to call tenders for 117 regional and suburban EMUs, of which €617m would come from EU grants.
CP expects to go to market before the end of the year, with contract award to follow by the end of 2022. Claimed by the operator to be its largest ever single rolling stock procurement, the first trains should arrive in 2026 and the entire fleet is scheduled to be in commercial service by the end of 2029.
CP expects to split the 117 trains around the country between suburban and regional routes. An initial batch of 34 will be used on the Lisboa – Cascais suburban line, which is currently being converted from DC to AC electrification, while 16 more high-density trains are destined to operate on routes serving Sintra, Azambuja and Sado. A further 12 EMUs will go to the Porto area to expand local capacity as part of CP's strategic objective of increasing capacity in and around the country's two largest cities by 20%.
The remaining 55 trains would be used on regional services, complementing an order placed by CP in October 2020 for 22 electric and electro-diesel Stadler trainsets. This contract is still awaiting final sign-off from the national auditing authority and the Ministry of Finance, and as a result Stadler has not yet started production. The first train is still expected to be delivered within four years.
The Council of Ministers has also approved the creation of a Railway Competence Centre, to be based at the recently reopened Guifões workshop in Matosinhos. To be established at a cost of €6∙35m, RCC is being set up by a consortium of CP, infrastructure manager IP, and metro and light rail operators Metropolitano de Lisboa and Metro do Porto. The backers also include the national innovation agency as well as several universities and rail supply chain businesses.