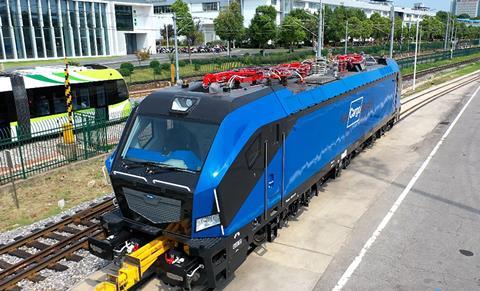 HUNGARY: A main line electric locomotive with last-mile battery pack ordered by Rail Cargo Hungaria has been rolled out at CRRC Zhuzhou's factory in China.
The order placed by the ÖBB-owned freight operator in September last year covers two prototype main line locomotives and two electric-battery shunting locos. The two types have been designed to RCH's specifications at CRRC's expense. Both are to be certified by the manufacturer for use in Hungary, Croatia, Serbia, Romania, North Macedonia, Greece and Bulgaria.
The 5·6 MW four-axle main line loco has an operating weight of around 90 tonnes and a starting tractive effort of 300 kN. It is capable of hauling trains at a top speed of 120 km/h.
The production of the first shunting locomotive is scheduled to be completed by the end of this year.
RCG will initially lease the locomotives for four years in a deal which includes full maintenance. It has options to extend the lease or buy the locomotives if it is satisfied with their performance, and to place an order for 20 more locos of each type.