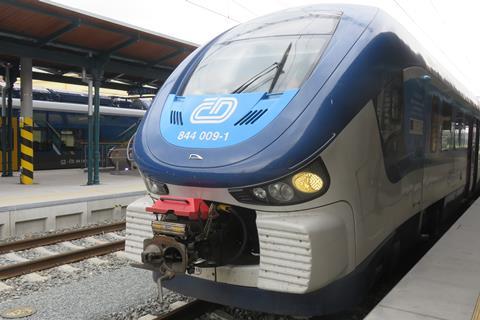 CZECH REPUBLIC: National operator ČD has announced its intention to tender a framework contract for the purchase of up to 60 diesel multiple-units, potentially valued at KC5bn.
The low-floor air-conditioned trainsets will be designed to operate at up to 120 km/h and offer at least 120 seats.
The framework contract will replace an long-running tender for regional DMUs issued in August 2017, which attracted limited interest and has now been cancelled.
ČD had initially sought bids for a smaller fleet of 10 DMUs to operate the Praha Masarykovo – Kladno (– Kralupy nad Vltavou/Rakovník) line. This is one of the busiest non-electrified single-track lines in the country with a significant potential for commuter traffic to and from the capital.
Delivery had been anticipated for 2019, but ČD received only one bid from Newag of Poland, which turned out to be far above the anticipated budget. The operator now hopes that the larger scale of the framework contract will attract lower unit prices.
The newest DMUs in ČD's current fleet are the 31 Class 844 'RegioShark' units purchased from Pesa Bydgoszcz in 2011–13. However, the operator last year acquired 12 second-hand Stadler GTW 2/6 DMUs (formerly Class 646) from DB Regio, and the first of these began operating in the Olomouc region in February.
Rival operator Arriva Vlaky is also buying second-hand Class 646s from DB Regio, taking delivery of the first four of 12 sets in April. These will be used on PSO supported services in the Zlínský region. Following modernisation by Pars nova Šumperk, the four DMUs are due to be deployed from September 1 on the Rožnov pod Radhoštĕm – Vsetín – Bylnice, Vsetín –Velké Karlovice, Staré Mĕsto u Uherského Hradíštĕ – Uherský Brod – Bylnice and Uherský Brod/Újezdec – Luhačovice routes, replacing Class 845 DMUs (ex-DB Class 628). The remaining eight units are expected to enter service by December 31 2021.