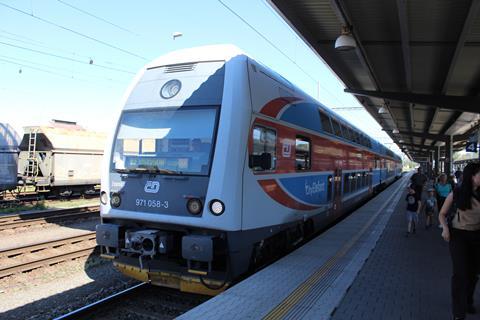 CZECH REPUBLIC: National operator České Dráhy has called bids for two framework contracts covering the supply of up to 150 dual-voltage electric multiple-units.
Both the tender for up to 90 four-car EMUs to operate suburban services issued on November 18 and that for 60 long-distance trainsets invited on October 31 envisage trains suitable for 3 kV DC and 25 kV 50 Hz electrification. Both tenders emphasis that the winning offer will depend not just on price, but also on energy consumption and maintenance costs.
Double-deck replacements
ČD has invited eight manufacturers to tender for the KC42·2bn 'EMU400' suburban fleet: Škoda Transportation, Alstom, CAF, Siemens, Stadler, Pesa and Newag.
Due to be delivered from 2026-27, the 90 EMU400s are intended to replace the Class 471 CityElefant double-deck EMUs supplied by Škoda Vagonka between 1997 and 2013. ČD now operates 82 of these units on suburban services around Praha and Ostrava. While the oldest of these sets are approaching mid-life, they are only equipped for 3 kV DC operation, and infrastructure manager SŽ has embarked on a rolling programme to convert the network's remaining DC electrification to 25 kV 50 Hz over the next 20 to 30 years.
The 160 km/h units could be either fully double-deck or a combination of double and single-deck vehicles. Each four-car set must provide a minimum of 380 seats, of which 5% will be first class, with space for two wheelchairs, six pushchairs and at least 30 bicycles. The air-conditioned vehicles could have longitudinal or airline-style seating.
The EMUs must be capable of multiple working up to three sets, with a 12-car train providing capacity for 1 140 seated passengers. They must be fully accessible, with retractable steps, have ramps for wheelchairs, as well as audio and visual passenger information systems, onboard wi-fi and 230 V power sockets. The units must also be fitted with ETCS onboard equipment and a remote fault diagnostic system.
Long-distance EMUs
The 'EMU350' trainsets are intended to replace loco-hauled trains on domestic long-distance services making frequent stops, such as the routes from Praha to Brno and České Budějovice. These units would have a maximum speed of 200 km/h to allow operation on the country's planned high speed lines. They will also be designed for multiple-unit operation, allowing services to split for different destinations.
The framework agreement for 60 sets is valued at around KC32bn, and would include an initial firm order for 14 trains to be delivered from 2025. It would also include a full-service maintenance element.
The fully-accessible EMUs must be able to accommodate at least 300 passengers in both first and second class, including passengers with reduced mobility; there should be room for at least two wheelchairs and large space for bicycles, plus braille and audio guidance for visually-impaired passengers. All seats would have 230 V and USB charging sockets, while there would also be onboard wi-fi, a passenger information and entertainment portal, and chargers for electric bikes, plus vending machines for drinks and snacks.