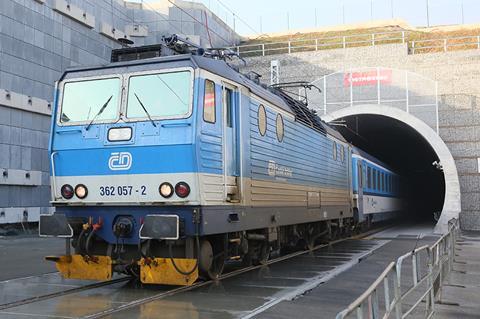 CZECH REPUBLIC: National operator ČD called tenders on July 2 for a framework contract covering the supply of up to 90 multi-voltage 200 km/h electric locomotives.
There would be a firm order for 40 locos, with options for up to 50 more to be exercised within eight years. The contract would include 10 years of maintenance, with an option for an additional five years.
The contract is expected to be awarded in August, with the first four locos then delivered within 40 months.
They are required to be capable of operation in the Czech Republic, Austria, Poland, Germany, Hungary and Slovakia. They would have a rated output of 6 000 kW, be capable of operation under 3 kV DC, 25 kV 50 Hz AC and 15 kV 16.7 Hz AC electrification, and should be fitted with ETCS as well as national signalling systems, and able to work in multiple and on push-pull trains.
Siemens, Bombardier, Talgo and Škoda Transportation participated in a preliminary market consultation before the tender was announced.
ČD has also announced a preliminary market consultation for the lease of up to 30 additional 200 km/h multi-voltage locomotives for a 10 years. These would need to be authorised to work in the Czech Republic, Austria, Poland, Slovakia and Hungary, but not Germany.
ČD currently operates 294 electric locomotives of 17 classes, including 10 Siemens Vectron MS electric locos leased from ELL since December 2017.
Rejuvenation of the electric loco fleet has been high on the state operator's agenda for several years, in order to lower operational and maintenance costs and increase reliability.
However, plans have changed several times, including a request for 43 locos for 200 km/h operation and 22 for 230 km/h, with market consultations announced in April and November 2019.