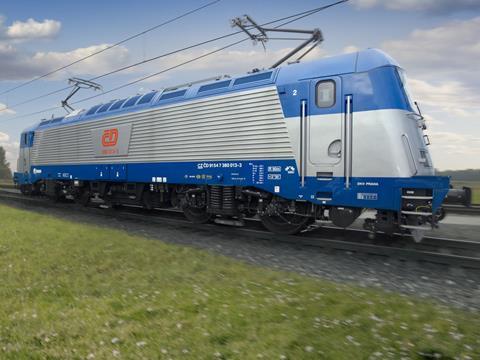 CZECH REPUBLIC: An arbitration court issued its ruling on a protracted dispute between national railway ČD and Škoda Transportation over the late delivery of 20 Type 109E Class 380 multi-voltage electric locomotives on November 16.
The court ruled in favour of Škoda Transportation, rejecting ČD's claim for compensation and saying ČD must pay the outstanding balance of KC468m, plus KC760m under a clause covering inflation. Škoda Transportation said it was disappointed that it had not been able to settle the dispute earlier, saying it had previously proposed an out-of-court settlement which it said could have saved ČD KC800m.
The KC2·7bn contract was signed in April 2004. The first locomotive was scheduled for delivery in 2009, but was almost five years late. Škoda Transportation blamed the changes needed to comply with TSI requirements which came into force in September 2008 and requested an increase in the contract price. ČD stopped payments in 2010, and sought compensation when no locomotives had been delivered by 2012.
ČD and the Ministry of Transport immediate disputed the ruling, with the ministry saying it could not understand why state-owned ČD should suffer for 'deficiencies' which it attributed to the supplier. ČD and the ministry have filed an appeal, and the ministry has ordered that all contracts awarded to Škoda Transportation should be re-audited to identify potential risks.
The Class 380 locomotives are still not authorised for unlimited operation in Germany, despite approval by EBA in May (RG 7.15 p19). The intention to deploy them on Praha – Berlin – Hamburg EC services from the December timetable change.