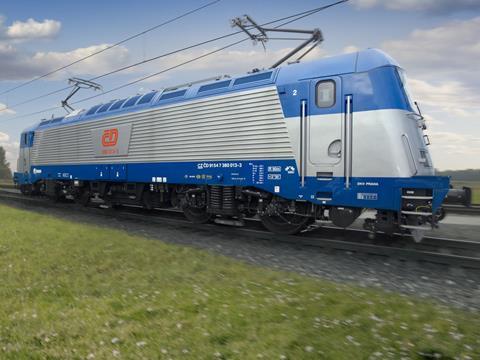 GERMANY: Škoda Transportation announced on May 22 that regulator EBA had granted its Type 109E multi-voltage electric locomotives unlimited approval for operation in Germany at up to 200 km/h.
Czech national operator ČD is hoping to use its Type 109E locos (designated Class 380) to haul the Praha – Berlin – Hamburg EC services which it will operate jointly with DB from the December 2015 timetable change.
The Type 109E is now fully approved in the Czech Republic, Slovakia, Austria, Hungary, Poland and Germany, in line with the contract signed with ČD in 2004. The 109E also meets the European Technical Specifications for Interoperability for High Speed Rolling Stock.
Škoda Transportation said it has invested KC950m in the development and type approval of the locomotives, which it branded 'Emil Zátopek' in July 2013. At present 20 Type 109E1 locomotives are in service with ČD as Class 380, and two Type 109E2 locomotives with Slovakia's ZSSK as Class 381. DB Regio has six 109E3 machines to be designated Class 102 on order for use on regional services operating over the Nürnberg – Ingolstadt – München high speed line from December 2016.