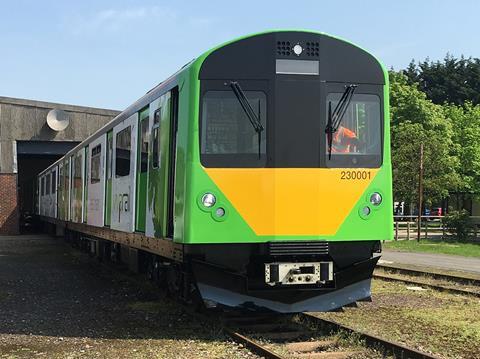 UK: Vivarail announced on July 22 that an agreement had been reached for its prototype Class 230 D-Train diesel multiple-unit produced by rebuilding redundant London Underground vehicles to enter passenger service on the Coventry – Nuneaton line.
The three-car DMU will be leased to West Midlands Combined Authority, maintained by Vivarail and operated by franchisee London Midland for an initial 12 months starting from later this year.
'I'm delighted that the Class 230 will soon be running on the mainline carrying passengers', said Vivarail CEO Adrian Shooter. 'We will be supplying a train of the highest quality with three carriages fitted out in a range of designs which will allow us to get valuable feedback on what passengers actually want. The two driving cars will retain their original "crowd-busting" layout whilst the middle car will showcase different seating and table arrangements. Our aim is to gain direct thoughts from the public about what suits their needs which we will be important in discussions with future operators.'
The Class 230 uses the aluminium bodyshells, bogies and traction motors from District Line D78 metro cars, and is intended as a 'cost-effective solution to over-crowding on the rail network'. According to Vivarail, its costs 'considerably less' to acquire and run than a comparable unit and using around a third less fuel. Each driving car is powered by two independent gensets, meaning the train can operate at near full power even if one of the 400 hp engines fails. The engines are mounted on modules allowing the DMUs to be maintained at the trackside rather than needing to return to a depot.
Councillor Roger Lawrence, transport lead at WMCA, said D-Train was 'an innovative proposition' which would help get around a UK-wide shortage of diesel multiple-units. 'It should enable more carriages to be provided sooner than would otherwise have been the case and we would encourage passengers to give their feedback once the pilot scheme is up and running', he said.
The D-Train project was described in more detail in the May 2015 issue of Railway Gazette International magazine, which subscribers can access in the digital archive.