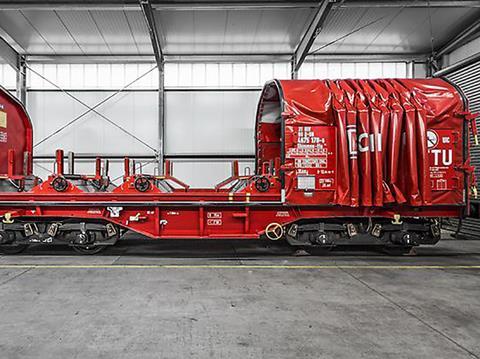 GERMANY: DB Cargo displayed the latest update to its coil-carrying wagon family at the Transport Logistic trade fair in München.
The wagon is designed to carry steel for the automotive sector which needs to be protected from the weather. Four opening handles on the tarpaulin end walls allow the wagon to be easily opened from loading ramps, and the handles can now be moved independently which DB Cargo says will significantly improves workplace safety.
'The two fixing arms with which the coil is fixed in place in the loading trough from left and right are now connected via a drive unit', said Markus Turowski of DB Cargo's Industrial Division. 'This means the coil can be fixed in place from one side of the wagon, and it's not necessary to work on the wagon or walk around it. Because the wagon can be operated fully from one side, we achieve significant improvements in terms of workplace safety and ease of use.'
Around 400 out the fleet of 1 200 older steel-hooded wagons have been overhauled since 2016, and are now in operation under the designation Shimmns ttu. They have an updated hood design, improved seals and rubber mats in the coil troughs.
DB Cargo is using 'tarpaulin plasters' to repair tears without needing to return the wagon to a workshop. The plasters can be used to seal dirty tarpaulins, and can be applied in almost any weather, which helps to protect loads that are sensitive to moisture.