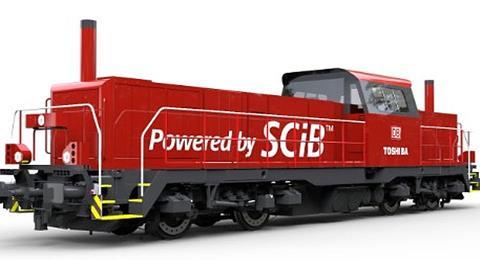 GERMANY: Following the positive outcome of a feasibility study, DB Cargo has confirmed it is to buy 50 Toshiba diesel-battery hybrid 100 km/h locomotives for shunting and short-distance freight operations, and will lease a further 50 locos.
The HDB800 locos will be equipped with Toshiba's SCiB lithium-ion battery system, which has been certified by TÜV Rheinland.
DB said 50 hybrid locos would replace 61 of its older locomotives, offering 'considerably' reduced diesel consumption, lower maintenance costs and higher average fleet availability. It will be possible to charge the batteries via an external power supply, providing the ability to increase the proportion of renewable energy used.
'Together with Toshiba, we are setting standards in what is a vital technology for the future', said DB Cargo CEO Dr Sigrid Nikutta on January 23. 'Their new drive systems will allow our shunting yards to work in a more resource-efficient way, with annual energy savings of 30% and diesel fuel savings of 1 million litres per year. Alongside this, modern technology will make using the vehicles easier for our staff.'
A feasibility study for the hybrid loco project was announced by DB Cargo and Toshiba in January 2017, and Toshiba Railway Europe unveiled a electric-diesel-battery technology demonstrator locomotive at the Transport Logistic trade show in München in June 2019.
Now the order been confirmed, series assembly is scheduled to begin at DB Cargo's maintenance depot in Rostock in 2021. Kiel had also been considered.
The agreement marks 'the start of a brilliant collaboration', said Takayuki Konno, Corporate Senior Vice-President of Toshiba Corp and President & CEO of Toshiba Infrastructure Systems & Solutions Corp. 'Toshiba is very proud to design its first European shunting locomotive for DB Cargo combining European and Japanese high standards of engineering.'