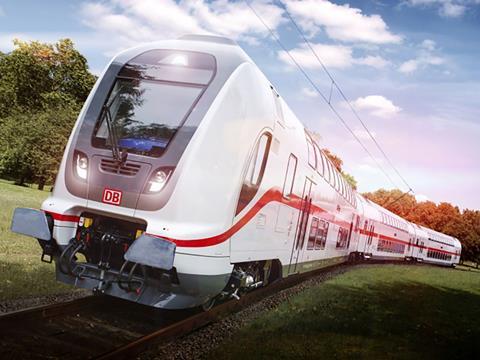 GERMANY: Deutsche Bahn has placed a firm order for a further 25 push-pull double-deck inter-city trainsets, Bombardier Transportation announced on March 30.
The contract covers 25 Traxx AC3 electric locomotives and 124 Twindexx Vario double-deck coaches to be delivered from 2019. They will be equipped with ETCS Level 2 Baseline 3, and approved for use in Germany and Switzerland.
The latest order has been placed as an option on framework contracts signed in 2008 and 2013. The first 27 five-car long-distance loco-hauled trainsets to be supplied under these frameworks are in service, with 17 more scheduled to be delivered in mid-2018. According to Bombardier, DB now operates almost 900 Traxx locomotives and more than 2 500 Twindexx Vario coaches in total.
The most recent inter-city order 'is a great achievement for our rail business and also signifies the continuation of our successful long-term co-operation with DB', said Michael Fohrer, Managing Director of Bombardier Transportation Germany. He said the modular design ensures that the latest vehicles will be fully compatible with previous builds.