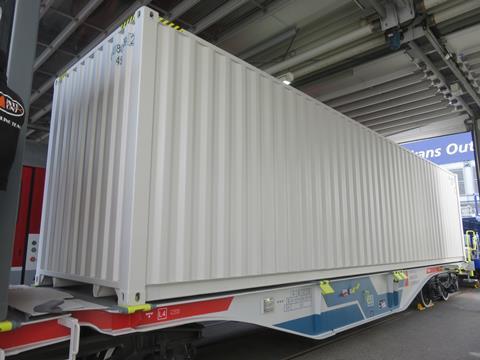 GERMANY: Russian manufacturer United Wagon Co has won what it says is a 'major breakthrough' order to supply wagons to Deustche Bahn, beating rival bids submitted by 'leading companies from Europe and the USA'.
The order announced on November 27 covers 130 Sggrs80 articulated container flat wagons which will be supplied from the manufacturer's Tikhvin plant in Russia's Leningrad oblast in the first half of 2020. There is an option for further wagons.
The 1 435 mm gauge wagon design was developed by UWC's All-Union Research & Development Centre for Transportation Technology to be lighter than older designs currently in service. It offers a 22·5 tonne axleload and a capacity of 108·6 tonnes, enabling it to carry ISO containers, tank-containers and swap bodies with a gross mass of up to 36 tonnes.
'Designing a wagon for Deutsche Bahn was a very ambitious objective', said UWC Managing Director Maxim Kuzemchenko when the order wan announced. 'It would be possible to enter the European market offering wagons with a simpler construction for ordinary freight companies, but we decided to offer something more sophisticated, because DB sets extremely high standards for the quality of processes and implementation.
'Within a year, we carried out R&D, worked on the design with our German colleagues, studied existing European standards, prepared our manufacturing facilities and personnel, and built links with international suppliers', he added.
DB approved UWC as a potential supplier following an audit earlier this year. The Tikhvin plant also obtained EN 15085 Welding of Railway Vehicles & Components certification following an audit by TÜV Rheinland.
Kuzemchenko said he was confident that the international market offers 'huge potential' for UWC, which has a capacity of 20 000 wagons/year, and could 'help European customers to cover their needs in situation where local producers are overbooked with orders.'