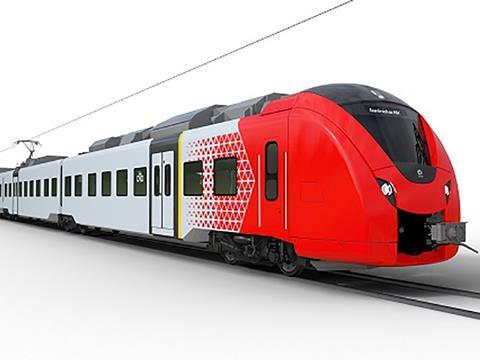 GERMANY: DB Regio has signed a €150m contract for 25 four-car Coradia Continental electric multiple-units, Alstom announced on May 3. The firm order has been placed within a 2012 framework agreement covering up to 400 units.
The latest batch of units are to be used on SaarRB Lot 1 services which DB Regio is to operate under a contract awarded jointly by the Saarland and Rheinland-Pfalz south and north transport authorities earlier this year. This covers operation of regional services on the Schweich – Trier – Saarbrücken – Kaiserslautern route for 15 years from December 2019, and the Trier Hafenstraße – Konz – Saarburg route from December 2020.
The 160 km/h EMUs will have up to 200 seats, with multi-purpose areas for wheelchairs, bicycles and prams. The roof-mounted traction equipment will provide a spacious interior, with access at platform height, movable steps and continuous low-floor areas for step-free access. The units will be equipped with mobile phone repeaters, power sockets, CCTV and a real-time passenger information system showing connecting trains.
'After 53 trainsets ordered last month by Deutsche Bahn, the total number of Coradia Continentals sold within the current framework contract exceeds 100 units, proving the satisfaction of our customer', said Alstom Germany & Austria Vice-President Didier Pfleger.