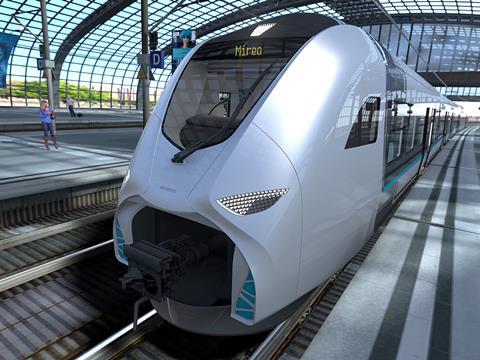 GERMANY: DB Regio has formally ordered 57 three-car Mireo electric multiple-units for use on S-Bahn Rhein-Neckar services, Siemens announced on August 8. This is the second order for the Mireo regional and commuter train family, which Siemens launched last year.
The 160 km/h EMUs will be supplied from Siemens' Krefeld plant for deployment from December 2020 on services which DB Regio is to operate for 14 years on behalf of Baden-Württemberg's Ministry of Transport and the Rhein-Neckar and Rheinland-Pfalz Süd transport authorities. The operating contract covers service S5 (Mannheim –) Heidelberg –Aglasterhausen/Eppingen/Bad Rappenau, S6 (Wiesbaden –) Mainz – Worms – Mannheim – Bensheim, S8 Mannheim –Karlsruhe, S9 Mannheim to Groß Rohrheim and Mannheim-Waldhof and the Murgtäler Radexpress from Mannheim to Baiersbronn.
The EMU contract has been placed using the 'Baden-Württemberg model', with DB Regio ordering the EMUs on behalf of the transport authorities. On delivery, ownership of the EMUs will be transferred to the Land, with DB Regio then leasing them back for the duration of the operating contract.
To meet the authorities' passenger comfort requirements, the 70 m long three-car articulated EMUs will have 200 seats, as well as multi-purpose areas for wheelchairs, bicycles and pushchairs. The 760 mm entrance height will provide level access at all platforms, and there will be wi-fi, 'extensive' passenger assistance and information systems and CCTV.
Siemens designed the Mireo for quiet operation, with an aerodynamic design and quiet bogies. The lightweight construction, energy-efficient components and intelligent onboard systems are expected to reduce energy consumption by 25% compared to previous EMU designs.