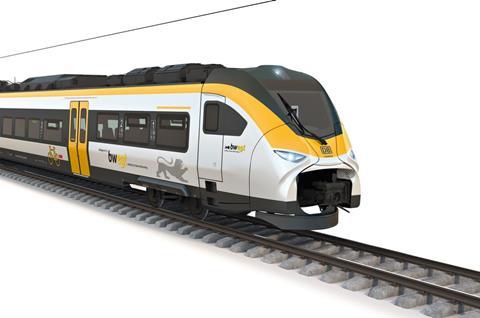 GERMANY: DB Regio has formally awarded Siemens Mobility a contract to supply seven Miro electric multiple-units for use on services from Karlsruhe to Bruchsal, Heidelberg and Mannheim which it is to operate as part of the Netz 7b operating contract.
The three-car units with more than 200 seats will be supplied from the manufacturer's Krefeld plant by the start of the operating contract in December 2022.
On delivery ownership of the fleet will be transferred to the Land of Baden-Württemberg's rolling stock body SFBW, which will lease the EMUs to DB Regio for the duration of the 13-year operating contract.
'This order marks the third Mireo order we've received from DB Regio in less than three years', said Siemens Mobility CEO Sabrina Soussan when the order was announced on November 14. 'The Mireo features an energy-efficient vehicle design and improved passenger comfort, and offers sustainable value enhancement over the entire life cycle.'